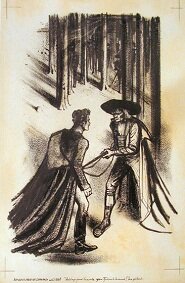 From a Study in Scarlet
Study in Scarlet cover
Ograshor finished quilt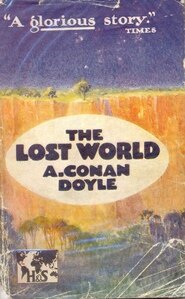 All pictures copyright ACD/RLG Collection
Sharing Sherlock Exhibitions
Sir Arthur Conan Doyle's connections to Portsmouth are strong - he was living here when he wrote his first novel, The Study in Scarlet, and played an important part in the life of the city.
As part of the Heritage Lottery funded Sharing Sherlock project 10 exhibitions were created around the city with the help of community groups.
The exhibitions are on a wide range of themes, stretching from Arthur Conan Doyle: Sporting Hero to The Lost World, and took place in local community centres.
These exhibitions provide a glimpse into the Arthur Conan Doyle Collection.
Arthur and George at Southsea Library
Celebrating the forthcoming ITV drama starring Martin Clunes, Conan Doyle Collection volunteers have selected copies of letters which show Conan Doyle's work as a detective and supporter of social justice. There will also be a selection of costumes from the drama on display from 23rd February to 23rd MArch.
Portsmouth MIND created their own version of Sherlock's study.
Arthur Conan Doyle enjoyed many sports and was the first captain of what was to become Portsmouth Football Club.
Sherlock Holmes was born in Portsmouth when Conan Doyle wrote A Study in Scarlet.
Springfield School created their own Sherlock inspired detective stories
Sherlock was a man of many disguises and has appeared in many forms from cartoons to birthday cards.
Ogroshor created and stitched a beautiful quilt based upon The Copper Beeches.
Conan Doyle was a supporter of Elsie Wright and Frances Griffiths who claimed to have taken photographs of fairies.
The Lost World lends itself perfectly to film and tv adaptions. The Portsmouth Autism Network have created their own version.
Masks feature in Arthur Conan Doyle's story Charles Augustus Milverton. Harbour School's Key stage 3 group created their own masks and costumes to transform themselves.