Follow us on facebook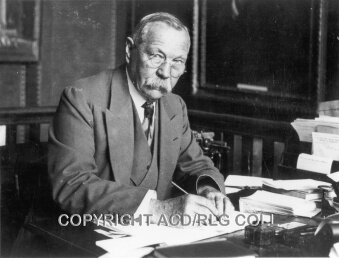 Find out a about Conan Doyle, Sherlock Holmes and Richard Lancelyn Green's wonderful Collection of papers, books and memorabilia.
Sherlock Holmes and Doctor Watson are two of the most famous fictional characters in the history of literature. Their creator, Sir Arthur Conan Doyle, is esteemed around the world for bringing to life the greatest of all detectives. Less well-known are the many other dimensions of Conan Doyle's life: physician, sportsman, political pamphleteer, and Spiritualist campaigner, Conan Doyle had associations with many of the leading figures of the Victorian and Edwardian eras.
The Arthur Conan Doyle Collection, bequeathed to the city of Portsmouth by Richard Lancelyn Green, perhaps the leading collector of Conan Doyle memorabilia, brings together an unparalleled variety of books, documents and objects connected to Holmes and the life of his creator. A brand new archive research centre is in the city's Central Library which allows access to Richard's amazing collection. This archive is available by appointment. Please send an email to:
Visitors to the exhibition A Study in Sherlock at Portsmouth City Museum will encounter many extraordinary items from the Collection, including unique photographs, film posters, and letters from the influential and the famous. The exhibition features interactive displays and a narration by the Collection's patron, Stephen Fry.
Online exhibitions
As part of the Heritage Lottery funded Sharing Sherlock project 10 exhibitions were created around Portsmouth with the help of community groups.
On a wide range of themes, stretching from Arthur Conan Doyle: Sporting Hero to The Lost World, and took place in local community centres. These exhibitions provide a glimpse into the Arthur Conan Doyle Collection.
There are also photos from the recent Arthur & George exhibition which featured documents from the Collection and costumes from the ITV drama.
What's new?
LATEST
Watch a message from Stephen Fry
Please answer our short survey

(You could win a copy of Study In Scarlet featuring an introduction by Steven Moffat!)
This site uses Cookies. Find out more about how we use Cookies.