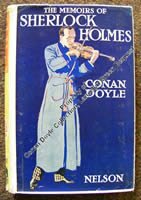 Celebrate Sherlock
It's 132 years since Arthur Conan Doyle set up his doctor's practice in Southsea. While here he wrote the first of his many Sherlock Holmes stories, A Study in Scarlet.
Join the celebrations by discussing Sherlock and his adventures with your class.
A Study in Sherlock
The world of Sherlock Holmes, Sir Arthur Conan Doyle and the Victorian and Edwardian Age. This exciting exhibition includes some of the highlights of the collection given to the City by Richard Lancelyn Green. Bring your pupils to experience the world of Sherlock Holmes and fine-tune their powers of detection!
Find out more about A Study in Sherlock
Sharing Sherlock Project
A Heritage Lottery Fund grant project to bring Sherlock to a wider audience. Working with schools and community groups to set up exhibitions. Includes handling boxes and study packs to work with in schools and groups.
Find out more about the Sharing Sherlock project and how to get involved