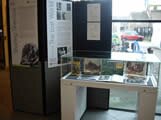 Sharing Sherlock Project
Sir Arthur Conan Doyle's connections to Portsmouth are strong - he was living here when he wrote his first novel, The Study in Scarlet, and played an important part in the city.
To promote the history of Arthur Conan Doyle's association with Portsmouth and to allow the local community more access to the full potential of the Collection, the Heritage Lottery Fund has given a grant for the creation of the Sharing Sherlock project.
The project includes:
10 touring exhibitions, each created by a community or school

30 outreach and education community/school workshops resulting in a better understanding of the literary heritage or Portsmouth and the themes from the collection

A series of school and community group study packs and handling boxes aimed at Key stage 2 to 4 which will support the exhibition and workshop programme

Engagement and training opportunities for 20 new volunteers.

Find out more about volunteering opportunities
The exhibitions are on a wide range of themes, stretching from Arthur Conan Doyle: Sporting Hero to The Lost World, and are taking place in local community centres.
---
Find out more about Sir Arthur Conan Doyle
Find out more about Sherlock Holmes