Set of six Conan Doyle postcards
£4.50 per pack
On 24th June 2012, Portsmouth celebrated the 130th anniversary since Conan Doyle arrived in the city, devising a Sherlock Holmes Day and creating a set of six commemorative postcards. The text on the back is amalgamated from quotes sourced from Conan Doyle and paraphrased from the author.
"With its imperial associations, Southsea is a glorious place; Portsmouth a town where I know nobody, and nobody knows me..."
The pack includes the following cards:
Postcard 1
Southsea seafront. The text on the back has been taken from a reliable source that Conan Doyle wrote in those days.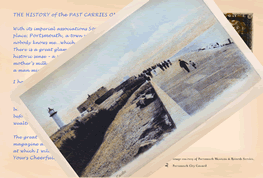 Postcard 2
No. 1 Bush Villa - Southsea where Arthur Conan Doyle began his professional career as a GP in the summer of 1882.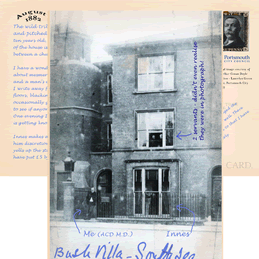 Postcard 3
Arthur Conan Doyle with his wife and cricket team in April 1884.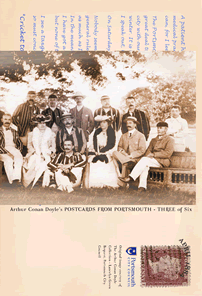 Postcard 4
Arthur Conan Doyle's wife, Louise Hawkins (known as Touie). It was during his time spent in Portsmouth as a doctor that Conan Doyle met and fell in love with her. They married at St Oswald's church, Thornton in Lonsdale, in August 1885.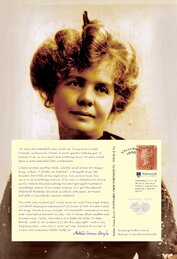 Postcard 5
Arthur Conan Doyle second novel The Sign of Four written in Portsmouth featuring Sherlock Holmes. Doyle wrote four novels and 56 stories starring the fictional detective.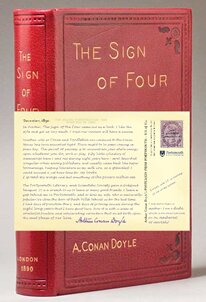 Postcard 6
Arthur Conan Doyle's first baby daughter Mary Louise who was born in February 1889.
Buy postcards - click this link and select links as follows:
Miscellaneous > Conan Doyle > select 'Arthur Conan Doyle postcards'
Please include the full postal address for delivery and email/telephone number.
---
Museum shop
A wide range of Sherlockian memorabilia is available from Portsmouth City Museum.
Now available from Portsmouth City Museum and the Visitor Information Centres, the A Study in Sherlock Exhibition Booklet is a perfect present for all occasions at the bargain price of only £3.50.