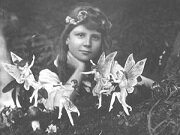 The Cottingley Fairies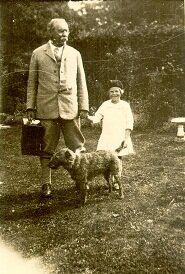 Doyle in the garden at Bignell Wood looking for fairies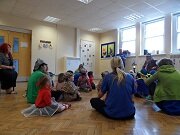 Storytelling session at Fratton Community Centre
Click on the image to see larger versions and more pictures from the collection.
All pictures copyright ACD/RLG Collection
The Cottingley Fairies
In the summer of 1917, in leafy Cottingley Glen near Shipley in West Yorkshire, Elsie Wright aged 16, and her cousin Frances Griffiths aged 9, claimed to have taken photographs of fairies. The photographs showed the fairies flying around the glen in the company of the girls.
The photographs were later seen by Arthur Conan Doyle, who included them in an article he was writing about fairy lore. The article was published in the Christmas 1920 edition of the Strand magazine.
Doyle had an intense interest in other spiritual worlds and came from a family who were fascinated by fairies. His artist uncle Richard was famous for his fairy illustrations.and they were also sketched by his father Charles. Doyle went on to write The Coming of the Fairies (1922) which contained three extra photographs taken by the girls.
His writings on the subject were met with a mixed response, but it was not until the 1980s that Elsie and Frances admitted that the pictures were faked. Ironically, they revealed that the images were cut from the pages of Princess Mary?s Gift Book, a wartime fundraising volume to which Doyle himself had contributed a story.
Some modern versions of the paper fairies have been made by the children from Bunny Warren Pre-school Nursery group who meet in Fratton community centre. There was also an exhibition case featuring objects and documents from the Collection.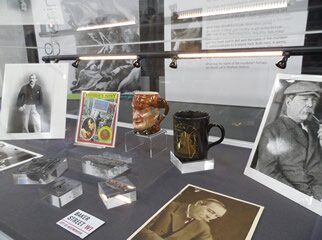 To see more images and find out more about the collection, email:
Find out more about Sir Arthur Conan Doyle
Find out more about Sherlock Holmes