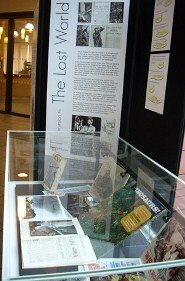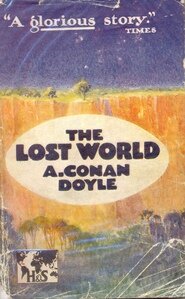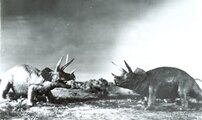 View more Lost World images from the Collection
All pictures copyright ACD/RLG Collection
Excursion to the Lost World
?South America is a granite continent. At a single point in the interior there has been, in some distant age, a great, sudden volcanic upheaval. .. What is the result?  Why, the ordinary laws of nature are suspended.?
Arthur Conan Doyle?s science fiction novel The Lost World is an exploration of this dangerous and exotic place, where prehistoric creatures still thrive. Published in 1912, the book was inspired by H G Wells?s novella The Country of the Blind, 1904, which was also set in a secret South American valley (and which appeared, like much of Doyle?s own work, in the Strand magazine).
The Lost World is a bold and imaginative account of an expedition to the Amazon basin, led by Professor Challenger (the first of four books featuring this huge and bearded, unruly figure).  Here, he and his three companions ? rapidly cured of their earlier scepticism ? are mobbed by a cluster of flying pterodactyls and pursued by flesh-eating dinosaurs.
An exciting and visual tale, it provided an appealing subject for filming, and in 1925 the first screen version appeared, with further films in 1960, 1992 and 2001. In 1997 the story of The Lost World was used in a sequel to Jurassic Park.
A group of young people from Portsmouth Autism Support Network (PASN) created their own interpretation of the story, using 2D stop-motion animation and a musical accompaniment. A part of both the Sharing Sherlock and Strong Voices projects, this is a lively contribution to The Lost World's continuing history.
PASN have been running for about 10 years and aim to support anyone affected by Autism in Portsmouth and the surrounding areas.  
Strong Voices is a national programme which aims to connect new audiences of young people to world class arts and cultural experiences. For more information about Strong Voices please contact Judith Carrie on
Watch the The Lost and Found World film
Books from the Collection
Armchair Detective, vol. 15, no. 2 [Periodicals]/ Atkey, Bertram, 1982.
P.156 refers to Doyle's 'The lost world'.
The Annotated Lost World (hardback)/ Arthur Conan Doyle: illustrated by Patrick Forbes, Harry Roundtree 1996. Central Library, Conan Doyle Reference, 823 DOY, reference use only.
Central Library Store, Conan Doyle Reference, 823 DOY.
Blackwood's Magazine, vol. 294, no. 1773, July 1963 [Periodicals].
P.67-74 contain article 'The lost world revisited' by E S Orr Ewing. Central Library Store, Conan Doyle Reference, Periodical Archive, reference use only.
Bookman, vol. 66, no. 3, November 1927 [Periodicals], Hugh Walpole.
P.287 contains review of 'In the beginning' by Alan Sullivan, comparing it to The lost world by Conan Doyle. Central Library Store, Conan Doyle Reference.
To see more images and find out more about the collection, email:
Find out more about Sir Arthur Conan Doyle
Find out more about Sherlock Holmes