Here are some examples of Arthur Conan Doyle activities we have run over the years.
Sharing Sherlock at the Southsea Show
1-3 August
Join us at the Southsea Show to find out more about your favourite detective Mr Sherlock
Holmes. With fun activities for children:
Picture trail
Dress up as Sherlock
Make your own deerstalker hat
Arthur Conan Doyle Day at the Fratton Community Centre
Fratton Community Centre groups have curated their own exhibition as part of the
Sharing Sherlock project - there will be fairies, Sherlock objects from the Conan Doyle
Collection, previously unseen photographs of Conan Doyle and a selection of Sherlock
book covers designed by local artists. Come along for free to:
Learn more about Sherlock Holmes and Dr Watson
Come and see some of the Conan Doyle Collection
See the fairies made by the Bunny Warren pre school
And much more.
All welcome.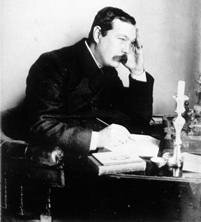 Ogroshor's 'Stitching a Story' Exhibition.
The Ogroshor Bengali Women's Group's quilt, depicting a scene from
The Adventures of the Copper Beeches.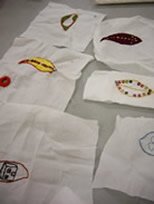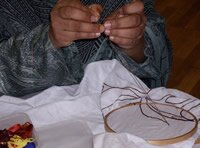 Playing Sherlock Holmes Exhibition
Portsmouth Central Library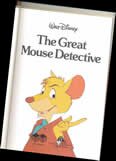 The Little Actors and Junior Youth Theatre' in Portsmouth – children of five to eleven
years old – meet weekly for drama workshops. Responding enthusiastically to stories of
Sherlock Holmes, they have improvised and performed two plays about him, and chosen
items to go in the accompanying case for their exhibition
Free drama workshops for all young people
A hands on dramatic experience exploring the ever changing world of Sherlock Holmes
through the ages, from a 19th century piece of fiction to an iphone app!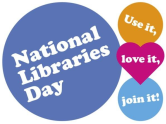 A whole range of activities and events taking place for all the family, showcasing the
many services on offer, including a chance to find out more about our Conan Doyle
Collection.
Find out more:
Portsmouth Library
The Word, Library Newsletter
The Lost World exhibition at the John Pounds Centre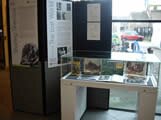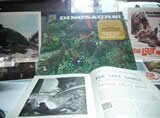 A group of young people from the Portsmouth Autism Support Network made their own
animation inspired by The Lost World artefacts in the collection. The group chose film
stills of the 1925 and 1960 version of The Lost World, an LP of the soundtrack, a book
and an edition of The Strand Magazine with the original story inside. The project was
a collaboration with Artswork's Strong Voices.
Watch the "The Lost and Found World" film
The film was made in workshops delivered by Strong Island Media as part of the Strong
Voices Programme by Artswork.
Festival of Christmas
The Conan Doyle exhibition at the Festival of Christmas was a big success. We saw a
total of 2500 people throughout the three day event (29 November - 1 December 2013),
with comments such as:
'What a pleasure to find a good exhibition within the 'Festival of Christmas' to pass an
hour in. Especially to see and hear Conan Doyle's own voice explaining his background
towards his 'detective' writing'
'An outstanding exhibition'
'This is a very interesting display of the vast Lancelyn Green Collection - and the highlight
of my visit to The Festival of Christmas! Thank you very much!'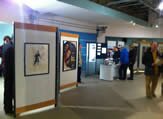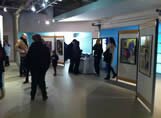 Celebrity Antiques Road Trip
Presenters of Homes Under the Hammer, Lucy Alexander and Martin Roberts, traded
homes for antiques on this celebrity road trip. Paired up with a classic car, antique
s experts James Braxton and James Lewis and £400 in their pocket, they scoured
the shops of Hampshire in search of a bargain to sell at auction for profit. A visit to a
school for spies and revelations about a collection of Sherlock Holmes memorabilia
added intrigue to their journey. All profits made to Children in Need.
Sherlock in Portsmouth exhibition
Portsmouth MIND did an excellent job preparing this wonderful display showing objects
relating to Sherlock Holmes and 221b Baker Street, the two books written in Portsmouth,
A Study in Scarlet and a Sign of Four; and photographs depicting Conan Doyle's early
years.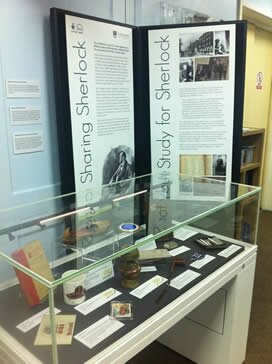 Opportunities Fair
The Opportunities Fair for young people aged 9 - 13 year olds.
Create your own Detective Mask Workshop
Using parts of actors faces that have played Sherlock Holmes, cartoon images and
drawing, make your own new detective!
These are some of the masks created on Thursday, 15 August 2013 at the Portsmouth
City Museum.



Portsmouth History Fair
The Portsmouth History Centre held a history fair with stalls, displays and activities for
children, as well as talks on several different topics. The Conan Doyle Collection had a
stand promoting the Collection.
Sherlock Holmes – A Worldwide Phenomenon at St John's College
Few literary figures have gripped the world's imagination quite so strongly as former
Portsmouth resident Arthur Conan Doyle's famous detective, Sherlock Holmes. Michael
Gunton, Senior Archivist at Portsmouth Museums, Archives and Visitor Services
(Portsmouth City Council) and curator of the Arthur Conan Doyle Collection – Lancelyn
Green Bequest archive, explored this remarkable character.
Sherlock Holmes film
A n action-packed adventure in the historic surroundings of the Square Tower, introduced
by Michael Gunton, archivist for the City Museum's Conan-Doyle collection.
Sherlock Holmes Day - Make a detective mask
Everyone knows of Sherlock Holmes, the greatest detective of all times! But how many
actors or cartoon characters have played him? What physical characteristics make a
good detective? What tools does a detective need to solve crimes?
Using parts of actors faces that have played Sherlock Holmes, cartoon images and
drawing, make your own new detective!
Outdoor Walks With Portsmouth Tourism Guiding Service Sir Arthur Conan
Doyle Walk.
Exploring locations and buildings associated with the author during his early years in
Southsea. Includes locations that will forever be connected to some of the characters
featured in the world famous Sherlock Holmes novels.
Portsmouth - home of great writing. Part of Adult Learners' Week.
Portsmouth has always been a city of great stories and great characters. Sherlock
Holmes was conceived here, Charles Dickens was born here and everyday some of the
best tales are told here. 'Portsmouth: Home of Great Writing' introduced some of these
stories and characters. This fascinating talk was led by Laura Weston.
Tour of the Portsmouth History Centre
Part of Adult Learners' Week. A fascinating free tour of the Portsmouth History Centre;
home to Portsmouth's local studies archives plus the Arthur Conan Doyle and Charles
Dickens collections.
Deerstalker Hat workshop
Learning more about Sherlock Holmes and the Arthur Conan Doyle collection.
Article published by The Portsmouth Evening News:
Super sleuths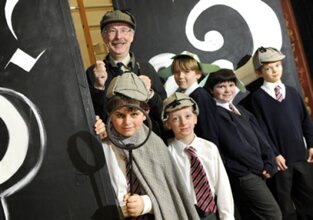 Elementary Michael Gunton, the senior archivist at Portsmouth City Museum, with
pupils from Mayville High School Jed Hawker, Jack Fletcher, Freddie Gidney, Kristian
Schafer and Joe Powles dressed as Sherlock Holmes.
Picture: Allan Hutchings (13370-463)
Armed with deerstalkers and magnifying glasses, these pupils look just like the
detectives they are learning about at school.
Pupils at Mayville High School in Southsea have been holding a themed week about ~
mysteries.
And as part of their education, they were visited on Monday by Portsmouth City Museum
archivist Michael Gunton, who looks after the city's Arthur Conan Doyle collection.
Tracy Holmes, from the school, said: 'Michael was fantastic and he knew so much, whic
h he shared with all the kids.
'The kids were buzzing.
'We're trying to make the theme fit in with all areas of the curriculum.
'We're still sleuthing now.'
Maria Konnikova Mastermind: How to think like Sherlock Holmes
An original and entertaining look at how we can use our brains to their full potential..
Stephen Fry leads tributes to 125th anniversary of Sherlock Holmes A Study in
Scarlet written in 1887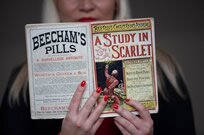 Stephen Fry, patron of Arthur Conan Doyle Collection Lancelyn Green Bequest, said
'I25 years of the world's most recognisable, enduring and influential detective. A
century and a quarter of Sherlock Holmes. When Doctor John Watson, having been
invalided out of the war in Afghanistan, found himself drifting towards Piccadilly Circus
in London "that great cesspool into which all the idlers and loungers of the Empire are
irresistibly drained" he little knew that a chance encounter with an old army friend in th
e Criterion Bar would lead him to the great meeting with one he would later describe a
s "the best and wisest man whom I have ever known".
'Holmes is imperishable. Sometimes his reality, manners, traits, habits, turns of phrase,
style of dress, his violin, cocaine, tobacco, deerstalker and magnifying glass obscure the
achievements of Sir Arthur Conan Doyle, a man quite as remarkable as his best known
creation. It is Conan Doyle we honour, thank and remember. The collection of his papers
in Portsmouth is a fabulous treasure that Sherlockians, admirers of Doyle's writing and
those curious to find out more are grateful to know exists. It is carefully and professionally
curated in the town for whose football club he once played in goal.
'So raise a glass to the greatness of Doyle and the eternal glory of Sherlock Holmes,
ushered into this world 125 years ago.'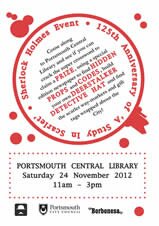 .
Magical Hats and Mysterious Words
To commemorate the 130th anniversary of Arthur Conan Doyle's arrival in Portsmouth in
1882, Portsmouth's Children's poet laureate, Steve Tasane, held a workshop at the City
Museum. Ffamilies came and made their own Sherlock Holmes deerstalker hat, and
created their own word puzzles celebrating the City of Portsmouth and the stories of
Sherlock Holmes, with tongue-twisting poet Steve Tasane.
Catching the Unseen: Spirit Photography from the Conan Doyle Collection
An exhibition of photographs, archives and books from the Arthur Conan Doyle collection
- Lancelyn Green bequest.
An illustrated talk about spirit photography and Conan Doyle's involvement in the
Spirtualist Movement by exhibition curator Dr Patti Gaal-Holmes.
Patti Gaal Holmes - Film Collection Day at Aspex Gallery
Patti asked people living in Portsmouth to bring in old family films (home movies) as
evidence of their lives and the lives of their family in past decades to this Film Collection
Day.. Wessex Film and Sound Archive (based in Winchester) have agreed to get
involved with the project and to assist with technical aspects.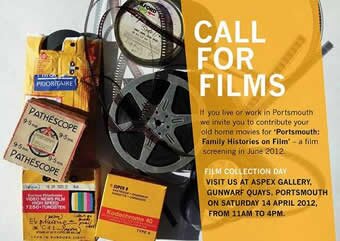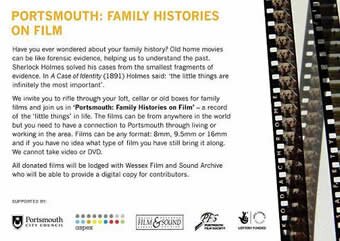 The opening of The Arthur Conan Doyle Collection - The Richard Lancely Green
Bequest
A very successful opening by Andrew Lycett and Mrs June Lancelyn Green. We were
very pleased to welcome to members of the Doyle family who came especially for the
event. A big thank you to everyone who has worked with the collection so far and helped
it reach this new phase!
Find out what's new at The Conan Doyle Collection

Arthur, Denis and Adrian with motorcar