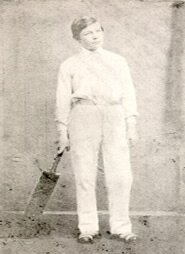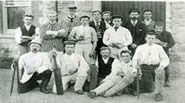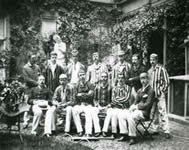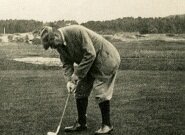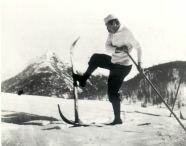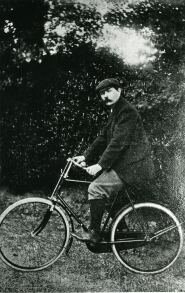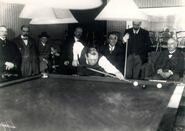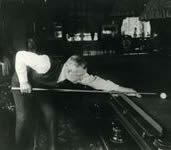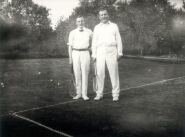 Click on each picture
to see a larger image and details about each photograph.
All pictures copyright ACD/RLG Collection
Arthur Conan Doyle - A Good Sport
?The football match does not come within my horizonat all.?
With these words from the story of ?The Missing Three-Quarter?, Sherlock Holmes loftily  dismisses the beautiful game. Yet football meant much more to his creator,  Arthur Conan Doyle. During his eight years in Portsmouth, Doyle became a founder member of the  town?s original football club and, under the name of ?A C Smith?, was  listed as the team?s first goalkeeper. He later played at right back.
A year later in 1885, Doyle became captain of Portsmouth Cricket Club, of which he was also a founder member. For him, cricket was ?a game which has on the whole given me more pleasure during my life than any other branch of sport?.
This was quite a compliment. While cricket remained an interest, at different times Doyle
enjoyed ? and usually excelled in ? a variety of sports. These included rugby, boxing, cycling, riding, hunting, golf, billiards, motoring, bowls, and the new-fangled sport of skiing.
Doyle began by playing bowls on Southsea bowling green. As he had a keen eye and was well
co-ordinated, he was good at ball games.
Arthur Conan Doyle not only practised sports, he featured them in his novels and short stories as well:
'Tomorrow is the 'Varsity football match'
'I have no sympathy with these childish games. The young man's fate interests me deeply,
since I know him and like him. The football match does not come within my horizon at all.'
              - The Missing Three Quarter (The Return of Sherlock Holmes)
There were others besides the students who were excited about the coming struggle.  All
Edinburgh was in a ferment.  Football is, and always has been, the national game of Scotland
among those who affect violent exercise, while golf takes its place with the more sedately
inclined.
              - The Firm of Girdlestone (Chapter 7)
Wilson's carriage and pair were at the door, the horses with blue-and-white rosettes at their
ears, which were the colours of the Wilson Coal-pits, well known on many a football field.
              - The Croxley Master (Chapter 2) 
Books containing references to Arthur Conan Doyle and sport:
Best Sporting Stories edited by J Wentworth Day, 1942.
Green flag, and other stories of war and sport by Arthur Conan Doyle, 1906.

The outsider: A history of the goalkeeper by Jonathan Wilson, 2012. Includes a brief mention of
Conan Doyle.
My Favourite Cricket Stories. Edited by John Arlott, 1986. 12 stories, including Sir Arthur Conan
Doyle's The story of Spedegue's dropper from The Maracot deep.
Sherlock Holmes was a Pompey keeper by Kevin Smith, 2004.
Book of winter sports: an attempt to catch the spirit of the keen joys of the winter season edited by J C Dier. Contains Sir Arthur Conan Doyle's Crossing an Alpine Pass on ski.
British ski year book 1923-24 edited by Arnold Lunn and H C H Marriott. Contains Sir Arthur Conan Doyle's A ski tour in 1893
Sherlock Holmes sporting references:
The Sign of Four (boxing)
From Return of Sherlock Holmes:
The Priory School (cycling)
The Three Students  (rugby, long jump)
The Solitary Cyclist
From The Casebook of Sherlock Holmes:
The Sussex Vampire (rugby)
Other books:
The Firm of Girdlestone
Beyond the City
The Croxley Master
Edward Malone in The Lost World  is a rugby player.
This exhibition was put together by Loewood House, a day care service for adults with learning
and physical disabilities.
For more information or to see the original photographs, please email:
Find out more about Sir Arthur Conan Doyle
Find out more about Sherlock Holmes