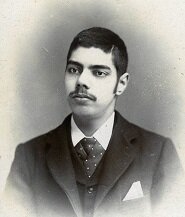 George Edalji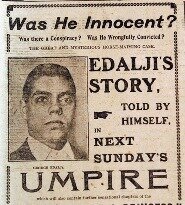 Newspaper report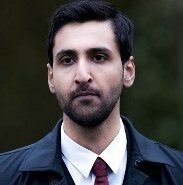 Arsher Ali plays George Edalji in the ITV drama
The case of George Edalji - a special investigation by Sir Arthur Conan Doyle
So began an open letter to the editor of the Daily Telegraph, on Wednesday, 9th January 1907. George Edalji, a young solicitor from Great Wyrley near Birmingham, had been imprisoned for horse mutilation. Edalji, who consistently maintained his innocence, had asked Doyle to help him clear his name.
Observing Edalji in a hotel lobby before their first meeting, Doyle realised that the young man was severely short-sighted as he was reading a newspaper held very close to his eyes. The atrocities were committed at night, and someone with such poor vision would have found them impossible to do.
Doyle suspected that Edalji had been targeted by the police because he was of mixed race and – due to his myopia – had odd-looking eyes. (This was a time when racial prejudice was rife in society and in the police.) The evidence against Edalji was circumstantial, and relied on dubious expert witnesses. Doyle decided to use his celebrity to make a 'big noise' so that the Home Office would feel obliged to re-open the case: something which they had previously refused to do. Eventually Edalji was given a free pardon, and consequently the Court of Criminal Appeal was established.
The Arthur Conan Doyle archive holds copies of the letters Doyle wrote to the newspapers about the Edalji case which helped to get his name cleared.