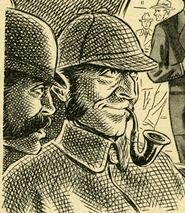 Celebrating Sherlock
The Conan Doyle Collection is working alongside schools to celebrate 132 years since Arthur Conan Doyle moved to Portsmouth in 1882.
Participate in Sherlock Day by spending time with your students this month learning about Arthur Conan Doyle.
Download and print off the activity sheets for junior school children
Sherlock and Conan Doyle facts for discussions
Arthur Conan Doyle wrote his first Sherlock Holmes story A Study in Scarlet in 1887 while working as a doctor in Southsea. He was not a very popular doctor but he soon became a very popular writer.
A Study in Scarlet mentions Netley Abbey, a war-time hospital that is still around today. It is located in Victoria Country Park, which is just off Junction 8 of the M27.

Arthur Conan Doyle played amateur football for Portsmouth, which later became the professional club we know as Portsmouth Football Club.

Arthur Conan Doyle married a local Southsea girl in 1885. She was the sister of one of his patients.

Arthur Conan Doyle wrote 56 short and 4 longer Sherlock Holmes stories between 1887-1929. Many of these have been adapted into TV series, films, theatre plays, comic books, art, and radio plays.

The first Sherlock Holmes play was an American play in 1899, which was written and starred by William Gillette. It was this play that made Elementary, my dear Watson a famous phrase - it was never written in the books.
Find out more about Sir Arthur Conan Doyle